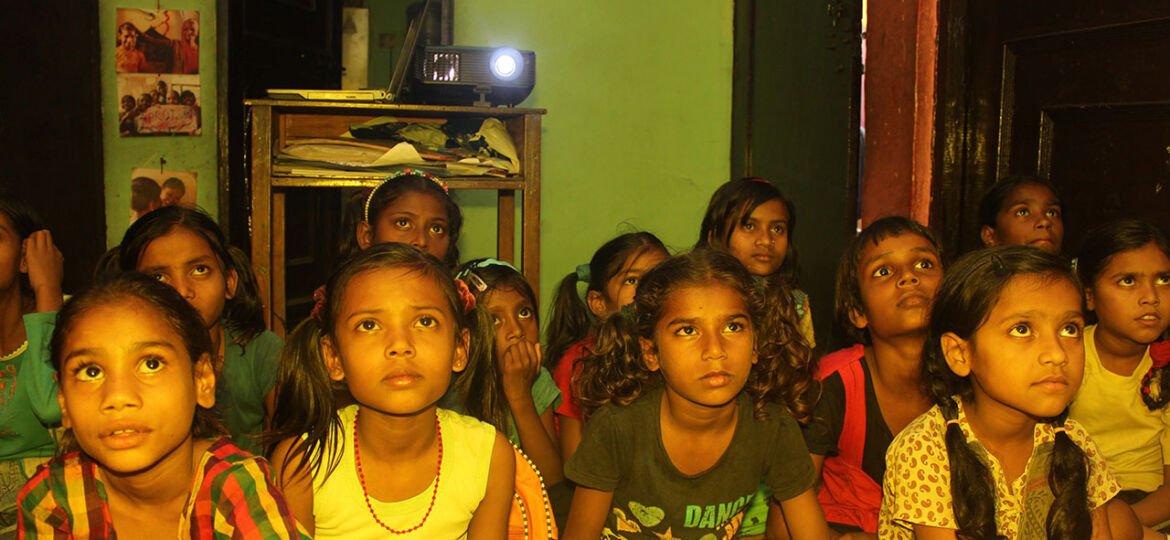 "Stories are the way human beings understand and communicate our deepest values", Marshall Ganz
Across the world, storytelling has been used as an effective means of social change. Tales of great leaders have inspired many more in bringing a revolution.  Cinema for years has been used as a mass medium of storytelling, spreading information and building awareness about social issues. The art of storytelling through Cinema has helped many change makers in imparting a message effectively. Cinema is a unique form because it is able to transcend illiteracy; therefore it can be easily viewed and digested by everyone, regardless of age or education.  Film is an amazingly powerful medium to bring people face to face with issues they won't experience.
At Protsahan, we take pride in being able to touch sensitive social issues with the help of film making. Social issues portrayed in a motion picture's narrative can resonate with audiences and generate discussion around these issues. This discussion, or discourse, can help construct new ways of thinking and talking about social issues or it can perpetuate the manner in which these issues are already being discussed. The process of film making helps embed a message in the minds of the young ones and gives them a sense of accomplishment and confidence, along with the message being effectively embedded in their minds.  In 2013, Protsahan partnered with UNICEF in their initiative "Say No to Open Defecation". Protsahan conducted workshops across its centres and encouraged the kids to tell their stories and experiences about Open Defecation through short movies. The films were then made by our kids. The girls took care of every minute detail including script writing, acting, shooting, directing, visualising, editing, all by themselves. The film was made possible with the help of many volunteer photographers and film makers.
Protsahan has also partnered with many such initiatives and through innovative approaches of art, digital stories, photography technology and cinema, conveyed topics which are considered a taboo.
On 17th January 2014, CII along with India@75 and Yi (Young Indians) celebrated the Art, Literature and Sports Day of the National Volunteering Week. National Volunteer Week is about inspiring, recognizing and encouraging people to seek out imaginative ways to engage in their communities. It's about demonstrating to the nation that by working together, we have the fortitude to meet our challenges and accomplish our goals.  For the first time in India, an attempt is being made to have a volunteering week and celebrate a National Volunteering Week & National Volunteering Day across the country by people from different walks of life jointly by India@75 &Young Indians (Yi). The NVW is an exercise to generate awareness and promote volunteerism in the country.
To commemorate the week, Protsahan screened 2 films made by our kids on Open Defecation in their own communities. The screening was held across all centres of Protsahan in Delhi. The parents and many others from their community were invited to watch the movie and get the message. The screening was done in the open as the message concerns a large section of the society who do not have access to clean and functional toilets. Hence, the venues were strategically selected to attract local vendors, rickshaw walas, homeless in and around the area.
Through the movie screening, we reached around 800 people who viewed the film across all screening locations. Out of these, 180-200 people were our kids and their family. The screening served a dual purpose of exhibiting the work of the kids along with sending across an important yet ignored message. Open defecation is the common cause of many illnesses and also the most common amongst Indians.
The parents of the girls were surprised to see the films and could hardly believe that their own girls could make movies on such important issues. Nishu's mother felt proud as she said "मुझे यकीन नहीं होता कि ये फ़िल्म मेरी बेटी ने बनाई है।  मेरी बेटी इतनी बड़ी बड़ी बाते करने लगी है और खुद ही इतने आचे विषय पर फ़िल्म बनाना सीख गयी". (I can't believe that this film is made by daughter. My daughter talks about such big things and made a film herself on such an important issue"). The girls were delighted and proud of themselves. Fatima's mothers also confessed, "आपने हमारे बच्चों कि ज़िन्दगी बदल दी, आप का बोहोत बोहोत आभार है", (You have changed the lives of our kids. We are extremely grateful to you). The girls were delighted and proud of themselves.
Volunteers bring along with them specialisation and diversity. Due to fewer vested interests, volunteers show credibility and objectivity. Enriched with new ideas and experience from different fields, Volunteers share constructive criticism and feedback.
Protsahan requests everyone to volunteer and give back to their communities in any way possible. We call out for professionals with electronic gadgets like laptops, iPads, Kindle to come and introduce our kids to new technologies and keeping them up-to-date so that they become at par with the other kids their age.