Internships are an intrinsic part of any B-School curriculum. Abiding by this, we, Anurag Krishnam, Abhinav Singh Raat, Juhi Shukla, Prakhar Verma and Pooja Chowhan introducing ourselves as the new interns at Protsahan India Foundation this summer, traveled down from Greater Noida to a place in Uttam Nagar that changed our perspectives forever. With a to-do list in our mind and a propaganda to discuss with the Founder-CEO herself, we set forth with our internship plans. A drive down, few steps and this is how we saw Protsahan; devoured with encouragement.)
Kilkaariyan – The sounds of laughter at Protsahan
The ambiance, a quaint looking lane, houses over-looking each other, children playing all around. We pass through the lanes, by lanes and we stand before the gate which is aloud with the laughter, and hustle and bustle of a vibrant group of little girls. A step further and you know that you have entered a different dimension of the locality.
We saw them and they left us surprised. A small premise, close to over a hundred children, some with their books reciting a poem, some gleefully playing together, some sitting in groups discussing everything trivial to issues as big as child marriage where they are working on a film which they are scripting!! From that first step, the dynamics that you see within the centre is phenomenal. For, when have you encountered children, children who have been left depraved, children who seen all, been through all and have sustained all and yet have only smiles to give, to get in this beautiful abode.
'Protsahan' means encouragement. Encouragement not just for a better present, but for a sustained life. What is now ubiquitous is deliberations on women empowerment. We see livid discussions on women's reservation bill, encouragement for uplifting women across all corporate verticals, the 'Save-the-girl child' movement. What I personally ascertained upon entering Protsahan was, all this nullified when it came down to the niche, the grass-root level.
Laughter in extreme adversity
The sparkling smiles that shone on the faces of these girls, were once subdued to the extent of even being crushed. For people like us, problems back home meant skirmishes with our siblings, an argument that our parents might have had, for these girls, home was a place where they were sided, their little hands were used for domestic chores. What came to rescue was this bright, young lady with the vision to set up something as novel as Protsahan. Challenges are seen by the day, by each little hour, but the passion of this place only notches up a step in the ladder high. The children come from such tough backgrounds but here find their own haven. Read about a little 6 year old that Protsahan reached out to just a few days back.
The true purpose of Protsahan
'Protsahan' was never about a school that taught them how to read and write. 'Protsahan' was a lease of new hope that these children got. To learn and express themselves, the happiness when they were clapped for, the yearn to learn more, the bright aura that lit their faces when they handled cameras, picturing perspectives that were different from ours, the chirpiness they regained all resulted in one thing 'Kilkaariyaan', brightly hued giggles.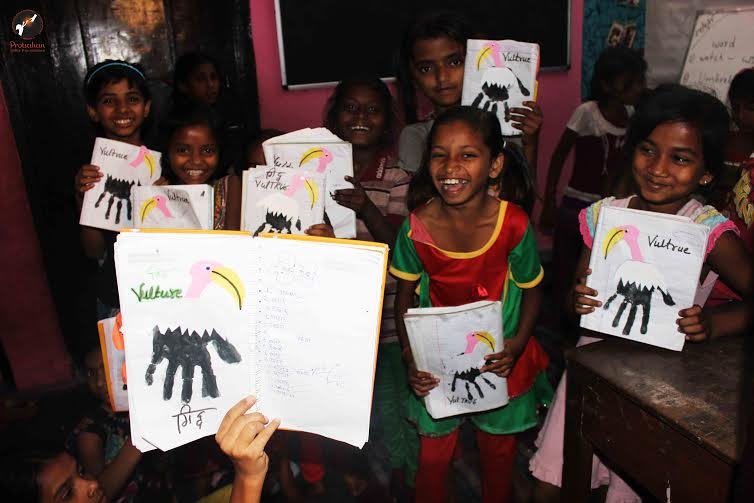 When you enter Protsahan, the first thing any mortal would notice is 'Kilkaariyaan'. (Kilkaariyaan' is a Hindi word that means gurgling laughter) 
When I say it all, we all have our little inhibitions, we all live with the longing to do something great for ourselves, but when we see outside the pretext of our own happiness, we see children who are much alike us, with lesser and fewer demands, what gives them happiness is recognition of their presence, of their identity, the love, the touch of compassion, the encouragement to open their wings and fly high.
To me, Protsahan is one and all above these.
To me, Protsahan is the reason behind their newly found 'Kilkaariyaan'.