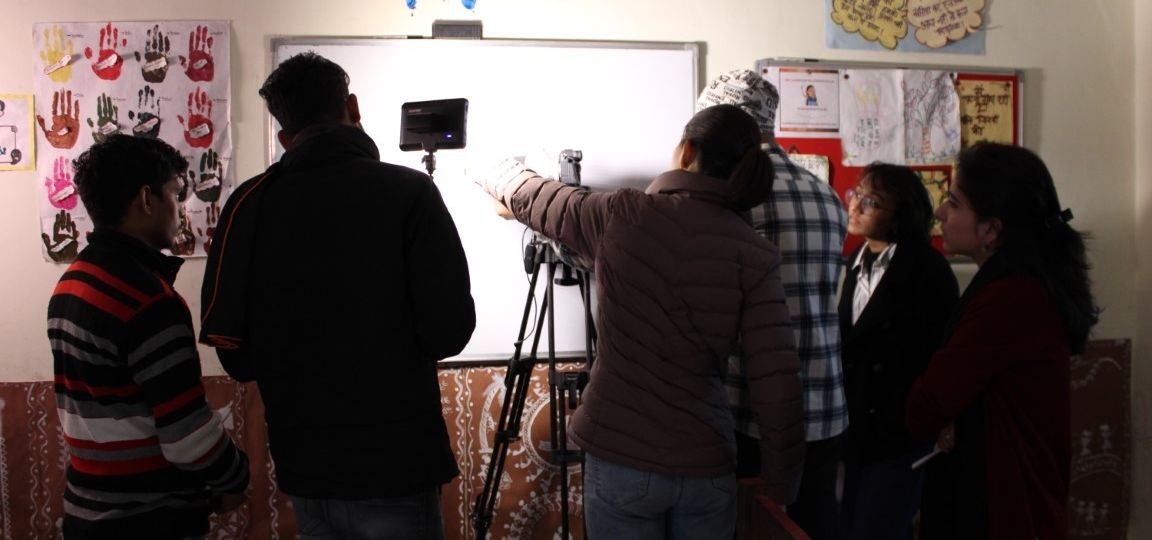 Author: Apeksha Yadav
"A story is what we want it to be "
 Digital storytelling is a participatory practice wherein individuals engage in activities through different art forms such as cinema, photography, and filmmaking.
The idea is to empower people by creating spaces for self-reflection, healing, and critical consciousness. It is essential to capture the imagination as it signifies the journey, history, and memory of power.
Digital storytelling has proved to be an effective tool for young girls to feel empowered by understanding the importance of self-awareness through creative thinking and skills such as leadership, confidence building and networking.
PROTSAHAN'S WAY OF ADVOCACY THROUGH ART
At Protsahan, girls subjected to vulnerability, systemic, intergenerational poverty and various forms of abuse are the "invisible forgotten adolescents" at the lowest level of the socioeconomic hierarchy. Their fundamental human rights and their voices have historically been silenced and disqualified.
Over the last decade, Protsahan India Foundation has been investing in creative arts-based therapy as a way to regenerate and reshape the broken childhoods of adolescent girls.
Evidence shows that art has the power to heal, inspire, promote, challenge, and offer hope. The "HEART MODEL" is thus the foundation of Protsahan's ART and TECHNOLOGY-based programme to re-imagine safe spaces, provide rehabilitation, and reintegration to address difficult emotions related to trauma, abuse, and violence.
"Art for Gender Justice and Healing" at the grassroots promotes girls to freely be their authentic selves and share their dreams and ambitions.
Our ethics and values emphasise the depth of scale to generate more impact in the community through direct intervention with girls on their journey from recovery to re-establishing their confidence to confront the world with zeal and courage.
The use of art in cinema, filmmaking, photography and storytelling is essential to reclaim spaces and find their voices while establishing a platform for them to be seen and heard.
Protsahan's art-based activities involve holistic development where photography, as part of digital literacy, provides safe spaces for girls to build confidence, resilience, self-esteem, and a sense of power. They enhance their skills in photography as a means to fulfilling their dream of becoming a photographer.
Through cinema and filmmaking, they challenge the structural sources of marginalisation and oppression as it encourages them to resonate with the camera where they gain an understanding of seeing themself through a lens, which elevates their confidence and positively pushes them into a mode of self-empowerment.
At Protsahan, power is decentralised in partnership with adolescent girls at the centre to uncover their voices that have been unheard for years. As a result, access to digital tools enables them to share their stories and challenges.
It encourages collaboration, reinforces emergent literacy practises, and improves communication skills to manage difficult emotions, ask questions and build critical thinking skills as they interact with others around them.
They create films in which they demonstrate their skills in directing, acting, and writing stories that are delivered directly to make the experience authentic and meaningful.
The impact of creative art-based therapy, therefore, relocates from a state of uncertainty to that of certainty by enabling girls to construct safe spaces amongst themselves.
A JOURNEY FROM ALIENATION TO EMANCIPATION
The art of learning and unlearning become easy with the help of storytelling since it enables the comprehensive and integrated growth of the girl. The power shift occurs where girls and their issues are the priority concern.
They are in a conducive learning environment with the opportunity to explore, observe and exercise the right to freedom of expression and speech.
Annually, Protsahan reaches more than 81,000 girls to celebrate their journey of resilience through art and technology. Today, when our girl champions proudly come and tell us about their journey of becoming successful artists and professional photographers, it reinforces our belief in the work that we are doing.
The process of resisting and dismantling gender inequality preconceptions that emerge in our girl champions' journey is a milestone toward emancipation.
" Didi, I want children of our community to go to school. Why don't we address this in the community through storytelling?"
Sonam, 13-year-old Protsahan's Girl Champion
Visit our YouTube channel to watch documentaries, short films and videos created by girl champions on relevant social issues: https://www.youtube.com/@NgoProtsahan/channels