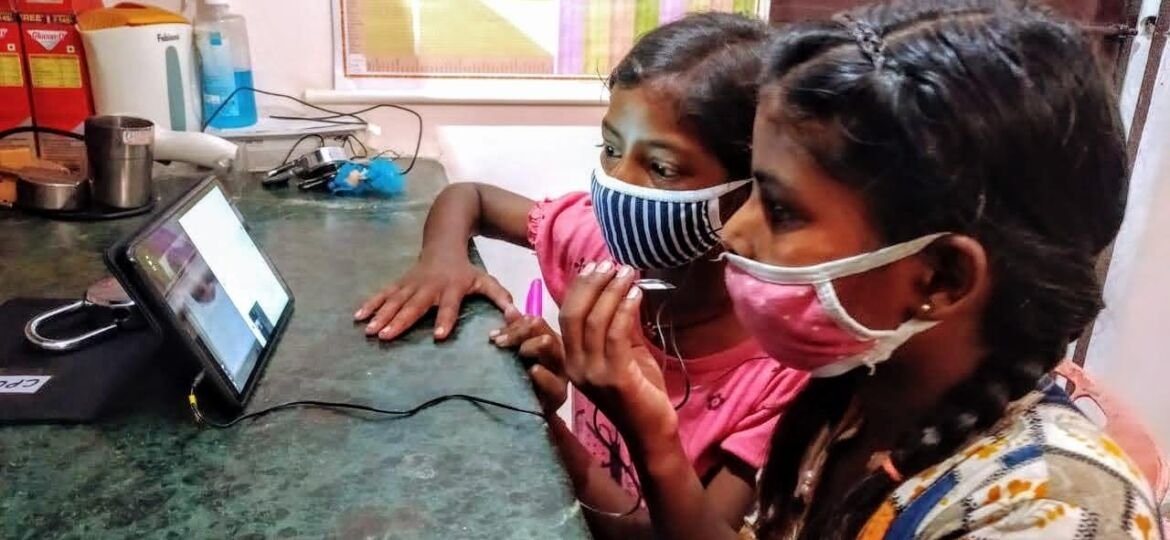 Author: Sanhati Banerjee
By Sanhati Banerjee for Protsahan India Foundation
As the nation continues to grapple with the deadly coronavirus second wave amid vaccination drives, it has left a devastating toll on human lives and minds. Perhaps, the worst part of the unfolding tragedy has been its impact on vulnerable populations including children, who are neither physically nor mentally disposed to battle the virus and its ensuing systemic healthcare complexities. The rights of the child to life, protection, health and happiness come into question when barriers to accessing public healthcare are profoundly felt especially by marginalized populations, or children belonging to marginalized sections of society.
News channels reported that the COVID-19 second wave hit more younger people and children as opposed to the first outbreak when the elderly, and those with comorbidities were seen to be the worst affected. Data from the Union Health Ministry showed the number of children affected between March 1 and April 4 in the country's worst-affected states — Maharashtra, Chhattisgarh, Karnataka, Uttar Pradesh and Delhi — was 79,688.
The silver lining so far is that children who contract the virus typically experience mild illness as per medical records. Most children do not require hospitalisation and the mortality rate is low.
However, this prevailing "mild picture" had contributed to cases in children being overlooked, according to a news report in digital daily Scroll. But with spiralling cases and increasing instances of being symptomatic with some even requiring hospital care, medical practitioners have asked parents to keep a strong vigil as children can possibly and innocently act as "silent carriers or super spreaders", according to the same report.  The greater impact of the second wave of the coronavirus on children has been widely linked with its emerging new mutations. Doctors are recommending an RT PCR test for a child if she is showing symptoms of COVID-19 infection.
"During the first wave, most children remained asymptomatic, and a large number of them went untested because of that," said paediatrician Dr. Bakul Parekh to news daily Hindustan Times. As Parekh, who runs a children's hospital in Ghatkopar, Maharashtra, admitted six children between one and seven years old to the hospital, he observed, "Those with gastrointestinal infections had to be put on intravenous fluids. The patients who were breathless required steroids and oxygen support," according to the daily.
The Looming Third Wave
Experts have, however, now warned against singling out children as the worst impacted and said that the second wave has impacted everyone equally.
As the medical fraternity is speculating on a possible third wave, parents are reaching out to doctors and allied resources enquiring about the risks to children amid a climate of fear and anxiety unleashed by the second wave.
Recently, All India Institute of Medical Science (AIIMS) director Dr. Randeep Guleria, said, "It is a piece of misinformation that subsequent waves of the COVID-19 pandemic are going to cause severe illness in children. There is no data — either from India or globally — to show that children will be seriously infected in subsequent waves." The AIIMS chief also stated that 60-70% of COVID-19-infected children who were admitted to hospitals during the second wave either had comorbidities or low immunity. He added that healthy children recovered with mild illness without need for hospitalisation.
According to the Indian Academy of Pediatrics (IAP), although children remain prone to infection, it is "highly unlikely that the third wave will predominantly or exclusively affect children". Additionally, there has been no evidence to suggest whether the children who contract COVID-19 will have any serious complications.
Crucial Fact Check
Here are some more facts and statements that counter presently circulating myths on children being at risk in circulation.
Almost 90% of the COVID-19-infected children so far have been mild or asymptomatic, according to the IAP data. In an advisory, the IAP said, "The most important reason is the lesser expression of specific receptors to which this virus binds to enter the host, and also their immune system. A very small percentage of infected children may develop moderate-severe disease. If there is a massive increase in the overall numbers of infected individuals, a large number of children with moderate-severe disease may be seen… Children are as susceptible as adults and older individuals to develop infection, but not severe disease. It is highly unlikely that the third wave will predominantly or exclusively affect children."
According to a report in The Economic Times, kids can record a fever that could be as high as 102 degrees Fahrenheit in case of a COVID-19 infection. While a moderately high temperature is also common to other routine viral illnesses in circulation, a COVID fever can be accompanied by chills, pain, weakness. It has been noted that usually the fever in children breaks after two-three days. However, if the symptom persists for over five days, it is recommended to seek specialised care as it can be a possible sign of MIS-C, which is a serious COVID-related complication.
Newer guidelines have also suggested against indiscriminate use of steroids, drugs repurposed for COVID treatment to not be used on kids.
Why Marginalised Children Need Critical Care
Considering the fact that approximately 60% of India's population lives in Tier III towns and rural areas, it follows that public healthcare awareness and pressure on existing amenities is severely affected across vast populations.
From remotely located healthcare centres, fatigued and overburdened healthcare staff failing to act with immediacy, to facing divides in terms of urban versus rural, rural versus remote, distressed populations continue to face barriers in accessing quality healthcare. The pandemic has only magnified such glaring pre-existing disparities further complicated by the realities of caste, class, religion and gender. Amid such an environment of negative care or care in absentia meted out to communities at the margins, it is only natural that children, who are the bottom of the hierarchy are staring at a humanitarian crisis whatever be the impact of the impending third wave.
Protsahan's frontline child protection officers at the grassroots say that the second wave has already taught us all how pregnant or lactating mothers belonging to distressed pockets are not just medically vulnerable but socio-economically vulnerable. From an ensuing confusion regarding vaccination to reports of women testing and vaccinating fewer than men surfacing indicating the grand old Indian symptom of gender divide, the healthcare system was not exactly streamlined to respond with empathy. As mothers are the primary caregivers of children in a traditional family set-up, it follows that children's safety and well-being is already at risk. Additional factors such as lack of clean, empty and safe spaces for children, lack of access to daily nutrition, lack of access to clean water, sanitation, hygiene (WASH) among vulnerable populations, spread of misinformation, absence of caregivers as suggested by recent reports of "COVID-19 orphans" are a further cause of concern for their immunity to the ever mutating virus. Discriminatory practices and threats of violence and trafficking of children are also a direct or indirect impediment to children getting tested or cared for in case of an infection. Last but not least, loss of incomes and livelihoods among rural and migrant populations as part of the economic downturn of the pandemic only expose the fragility of childcare.
So, in a diverse country like India, public healthcare needs to step in scale and empathy to respond to the lives of vulnerable children. Vulnerable to the looming third wave of the pandemic and vulnerable to a distressed, unhygienic, uncaring ecosystem especially in rural and remote areas.
What the UNICEF Says: At a Glance
The Indian Academy of Pediatrics (IAP) recommends that masks need to be worn by all children above the age of two.
The most common symptoms of infection in children are: Cold, mild cough, fever, body pain. Other COVID-19 symptoms are pain in the abdomen, loose motions, and vomiting are also present in children.
Clinical features or symptoms affecting children and adolescents, possibly associated with COVID-19, can include (but are not limited to): Fever, headache, body pain, tiredness, cough, breathlessness, poor feeding, loss of taste or smell (in children over eight years old), rash, red or pink eyes, swollen and/or red lips, tongue, hands or feet, gastrointestinal problems (diarrhoea, vomiting).
Children with obesity, diabetes, asthma or chronic lung disease, heart, liver or kidney disease, sickle cell disease, or immunosuppression might also be at increased risk for severe illness from COVID-19.
While parents need to monitor the progression of illness closely, it appears that most infants and children with these underlying conditions also do not usually develop severe COVID-19 illness.
Get your child tested for COVID-19 if: Family members that your child has been in contact with, test positive for COVID-19. Your child has symptoms of COVID-19. Your child has a fever that has continued beyond three days.
In case of a child testing positive: Record temperature and oxygen saturation with a pulse oximeter, every six hours. Measure their temperature frequently. Continue to follow good hand and respiratory hygiene practices. Continue to follow personal protective measures for yourself and your child. Feed your child home-cooked food and keep them well-hydrated. Give plenty of liquids and a soft and light diet. One may give vitamin C, zinc to boost overall health and immunity. Other nutritional supplements like syrup, multivitamin, vitamin D, calcium can be given as per their doctor's advice.
Children being super-spreaders is a myth. In fact, the capacity of children to spread the infection is much less as compared to adults.
References:
Covid Surge Hit Children Hard, 79,688 Infected In 5 States Since March
Coronavirus: Over 79,000 children tested positive since March as India grapples with second wave
Covid-19 in Mumbai: In second wave, kids more symptomatic
Coronavirus in kids: Will the third wave of COVID-19 affect children more? Here's what experts have to say
IAP VIEWPOINT ON THE THIRD WAVE OF COVID-19 IN INDIA
Coronavirus in kids: Third wave dangerous for kids? Clearing some myths
Symptoms being observed in children that point to a possibility of COVID-19 infection
COVID-19 and Children